As we enter the beautiful Easter Season, I truly enjoy seeing the lovely colors that it brings. Although, where I live in Southern Virginia, we are still waiting for Spring to roll through. It's been cold and damp, and it's a bit confusing for the poor 'lil flowers. They don't know whether to pop out or continue to hibernate for a while. Somehow through the dampness, a few Tulip flowers have managed to surface.
Amazingly, this time of the year, is also the time to focus on eggs. Hmmm. I never did understand the connection of eggs and Easter, however, I do enjoy seeing how creative some folks can be, when decorating eggs. You many already know that I have a passion to work with anything stitching related. I also enjoy sharing works of others.
I've just discovered these "Crocheted Green Eggs and Ham" at
Foodiggity.com created by Neotorama.com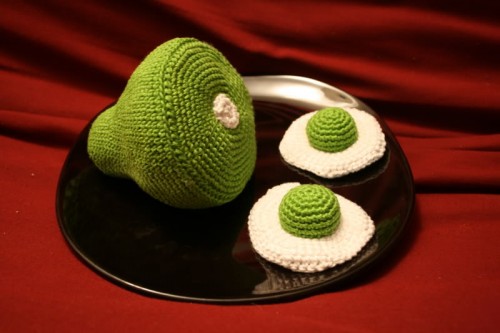 By John Farrier in Art & Design, Crafts on Mar 2, 2011 at 4:18 pm

Craftster user The Izz writes:


I will crochet them in a box.

I will crochet them with a fox.

I will crochet them in a house.

I will crochet them with a mouse.

I will crochet them here or there.

I do like them anywhere.

I will crochet green eggs and ham.

For I do love that Seussy Man


Knit these Chicks
Kat at Kat Knits has a knit pattern to make your own little Peeps! Make a few and get your duckies in a row
 
So what do you do with all those eggs? Well, my all time favorite are my fabulous deviled eggs! Yes, I am proud to claim that my recipe is the best, as it was well received by some serious picky eaters, that I know. My recipe is included with my
"Culinary Crochet"
version. Another nice thing, is that these
Crocheted Deviled Eggs
will surely last you a lifetime.